Advance Tips For New Users To Gain Instagram Followers
Table of Contents
1. Organize Giveaways
2. Collab with Influencers
3. Show the process
4. Promote your own profile
5. Use advanced tools and techniques
If you're looking for more sophisticated advice on how to grow your following, chances are good that you've already come across some of the fundamental suggestions made in nearly every online post. You must have read that you need to publish images of the highest caliber with appropriate captions, hashtags, etc. However, since everyone is using the same strategies, you need to take additional advanced measures, which we will discuss in this post. If you correctly follow them, you will quickly get free Instagram followers.
1. Organize Giveaways
Once you've amassed a certain number of followers. You can begin hosting freebies; they are unquestionably one of the best strategies to increase your following. You can urge your existing followers to "like" and "comment" on your post, "tag a friend," and "share" the post to enter the giveaway. This is an old and tested method.
2. Collab with Influencers
It is vital to note that we are not advising you to team up with well-known people or influencers because they will charge a lot of money to advertise your goods or services. You ought to seek meet-size influences who have a huge fan base instead. They will work with your schedule and advertise your products in the manner you want. Make sure the influencer you select is a member of your industry. This will surely help you get at least 100 free Instagram followers.
3. Show the process
Nowadays, a lot of companies on Instagram broadcast the entire process—or at least parts of it—of taking an order, preparing it, and shipping it. Most users that create these videos at least demonstrate how it is packed. If it applies to your industry, you can create reels or present the entire process on IGTV. Take advantage of the trend that this appears to be.
4. Promote your own profile
This advice may seem odd, but we included it on our list of advanced techniques for a reason. Many users neglect to use their own websites in favor of concentrating too much on gaining followers through outside assistance. Even without a website, you must have some means of promoting your Instagram account if you run a business. Consider internal techniques to market your Instagram account first; if you're certain that everything has been done inside, you can concentrate on getting external assistance.
5. Use advanced tools and techniques
There are many sophisticated features built into Instagram, so you don't need to purchase pricey software or use paid plugins. Utilize tools like geotags, which provide location information, to increase local sales. You can also make use of the Instagram followers increase app.
Examine some of your most recent posts to see which ones generated the most comments and at what time you posted the images. It will assist you in determining where the majority of your likes and comments are coming from.
Use Instagram analytics to keep track of everything because it's the most sophisticated tool you have and you can check out all the crucial data there.
Dumpor Review of the Anonymous Instagram Downloader Tool
This post will explain Dumpor Review of the Anonymous Instagram Downloader Tool. The Anonymous Instagram Downloader Tool Review. Dumpor You can only access a certain amount of content on Instagram, a well-known social media marketing platform, if you don't have an account. But if you haven't already, it will make you sign up or check in after a short while. Some users may rather remain anonymous and view other people's content without logging in, keeping their activity hidden from view.
Dumpor Review of the Anonymous Instagram Downloader Tool
In this article, you can know about Dumpor Review of the Anonymous Instagram Downloader Tool here are the details below;
Dumpor Instagram viewer might be useful in this situation by giving you access to other Instagram user accounts. Continue reading to find out more about Dumpor and Instagram viewer if you want to access the material and watch Instagram stories anonymously but don't want to log into your Instagram account.
Describe Dumpor Review.
Look no further if you're seeking for a programme or website that enables anonymous viewing of Instagram posts and stories. Dumpor is a well-known anonymous Instagram story viewer. The ability to view and download Instagram stories for free is a helpful feature. You can browse and read Instagram stories anonymously with the aid of Dumpor. You can search Instagram stories, photographs, followers, and tagged posts anonymously using Dumpor, a free tool or platform that also lets you examine Instagram profiles and download posts secretly.
It is considered as one of the greatest Instagram viewers and best anonymous Instagram stalkers. The best feature of the Dumpor Instagram app is that you may access other people's stories without creating an account. We may also "Browse anonymously," "See what's trending on Instagram," and "Download stuff" with the help of Dumpor. Dumpor is thus one of the greatest applications for "finding everything" and "analysing everything" on Instagram, in our opinion.
How Can Dumpor Be Useful?
An algorithm is used by Dumpor Instagram to learn more about your account and other details.
You may examine your Instagram account using the online app.
The social media performance of your account is compared to that of your rivals on this viewer and stalker Dumpor website.
Additionally, it offers details on the top content types, the most active Instagram users, and which Instagram highlights, stories, or photographs receive the most likes, comments, and shares, among other information.
Dumpor is a tool for data scientists and digital marketers that enables users to evaluate their social media accounts and enhance their marketing initiatives.
Advertising that is more effective can be the consequence of increased client comprehension.
Dumpor is a no-cost algorithm-based tool.
You could find it useful to analyse user account statistics using an algorithm to pinpoint areas that need work.
The Instagram story viewer tool can be used to find fresh approaches to expanding your online presence.
How can you use dumpor?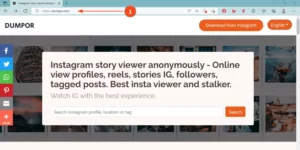 Dumpor: Enter a desired user account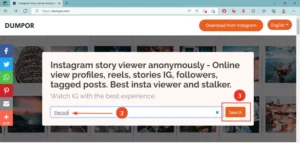 Select the Instagram profile you want to see.
Dumpor: Enter the IG account you want to visit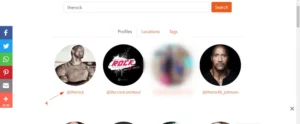 You can access Dumpor's posts, images, and stories without an Instagram account.
Dumpor: View posts, phoots and stories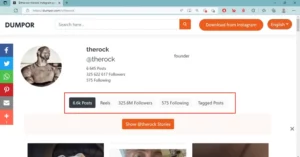 You may watch IG Stories on Dumpor without making an account.
It's a great method for undetectably looking through deleted tagged posts.
Features Of Dumpor Review
You can use the algorithm included in the private Instagram story viewer feature to look at other accounts' statistics.
Every Instagram profile, location, hashtag, follower, tagged post, and Instagram image is available for anonymous browsing.
Let's go over the finest Instagram viewer's main features, which will certainly hold your interest for a while.
Free Service
All of the services offered on Dumpor will be free.
Your information won't be as likely to be disclosed because the website does not retain it.
Online View Profiles
You may view an Instagram profile for free with Dumpor.
By taking a few simple steps, you may use web services to examine profiles on Instagram.
Just go to Instagram, get into the account you want, choose the profile, and access it.
User-Friendly Interface
This website's incredible simplicity is another plus.
Even a complete beginner who visits this viewer and stalker site will know where to start.
Anything can be downloaded
Additionally, downloading media such as movies, photos, and news is simple.
Users are not limited in their ability to download content on Dumpor.
Anonymous Instagram browsing
The owner of the profile won't be aware that you've recently seen their Instagram stories highlights or downloaded photographs when you explore Instagram profiles on Dumpor.
Isn't this amazing?
Find out more about Hashtags
Another benefit is that it will take you only a few seconds to find different kinds of hashtags.
As a result, you can take pleasure in the software and recommend it to your friends. This is another Dumpor Review.
Several languages
We can access online pages on the Dumpor website in many different languages, including English, Russian, and Hindi.
Simply select a language on the Dumpor.com official website (at the upper right corner).
Then choose a language that suits your needs to save Instagram information.
Dumpor Alternatives
Dumpor is the platform for you to download content from Instagram if you want to secretly stalk someone.
You can search for any places and categories other than by username.
But a few of the best Dumpor substitutes are:
Instalkr
Instalkr might be your finest option if you're looking for the top Dumpor substitutes in 2022.
This app makes it possible to browse Instagram privately.
If you need to rapidly view Instagram photographs and stories, this is the best app to utilise.
Instagram stories cannot be downloaded, but you can view them anonymously without letting anyone know that you have been watching them.
Another website that enables anonymous browsing and reading of Instagram-tagged posts is InstaStories.
After launching the tool, type the Instagram profile's username into the search box and click the search icon.
Everything you wish to view will be available to you.
Simply add your chosen usernames to the list of favourites to gain instant access to them all whenever you need.
izoomYou
The primary function of the programme, in terms of usability, is the ability to enlarge Instagram profile photographs.
You can download and view Instagram posts, stories, and profile photographs on your mobile device with this app.
On your mobile devices, you can passively save and view Insta stories, posts, and profile pictures. This is another Dumpor Review.
4K Stogram
You can store stories, download photos, and watch videos on Instagram anonymously with the help of 4k Stogram.
You can download stuff from Instagram at any moment for free by pasting the username of any Instagram profile.
Pixwox
A substitute for Dumpor Instagram stories viewers is Pixwox.
With the help of this tool, you may see stories, download pictures, and make videos your own.
In 2022, this is the top Instagram viewer substitute that you need to be aware of.
Users can effortlessly download or read offline versions of private or public accounts.
Stories IG
Stories IG is a fantastic application for browsing Instagram stories, following people's updates, and automatically downloading them.
You may grab highlights from Instagram Stories for free using this software and watch them privately (only public).
Picuki
You can rapidly modify and improve your own or other Instagram content using the Picuki Instagram viewer tool. You can also study prominent Instagram posts in one place and browse Instagram without logging in or creating an account.
What are the most frequently asked questions (FAQs) about Dumpor?
Dumpor is effective since it enables anonymous viewing of postings and stories.
At the same time, it enables you to search Instagram for posts relevant to particular locations or hashtags without registering an account. This is another Dumpor Review.
Is using Dumpor Instagram viewer secure?
Unsold outdoor furniture in Faisalabad will be discounted!
Unsold outdoor furniture in Faisalabad will be discounted!
Clearance Outdoor Furniture | Search Ads
These are the potential costs for full mouth dental implants in Dubai.
These are the potential costs for full mouth dental implants in Dubai.
Dental Implants | Sponsored Ads in Dubai
Umpor has zero danger.
It is a simple solution that enables you to store platform content.
You can use this tool to view any Instagram user's posts and stories.
What Is the Instagram Dumpor Review Story Viewer Anonymous Process?
Using an anonymous account, you can view posts and download Instagram stories. This is another Dumpor Review.
Is the reader of the Dumpor tale truly anonymous?
Yes, no search history or activity is retained by the Dumpor's design.
You can use this tool as a result without worrying about getting detected.
Is the Dumpor app for viewing Instagram stories a paid one?
For Instagram users, Dumpor is a helpful service that is totally free.
The best option available for those who want to explore Instagram profiles but don't want to log in is this.
Does Dumpor have a download cap?
No!
There are no limitations on what can be downloaded from Dumpor.
You can choose to download the articles, images, and videos.
How much does a Dumpor cost?
It is totally unrestricted.
Yes!
You won't be charged for using this service, and the greatest part is that your information won't be stored.
Your information won't be shared as a result.
Can an Instagram user discover how frequently their story has been viewed?
The owner is unable to ascertain how many times a viewer has seen their narrative as of yet.
Only one count per user is made for each view. Also check StoriesIG .
Without these technologies, is it possible to watch Instagram stories?
Yes, you may browse Instagram Stories anonymously by switching to "Airplane Mode" on your Android or iPhone smartphone.
However, because these capabilities were genuinely requested by the Instagram user base, you cannot browse Instagram or save stories without a user account.
How long does the typical Instagram story last?
Instagram stories can last a maximum of 15 seconds.
The app or website, if accessible, will automatically split large postings into several 15-second segments.
Final Reflections
The greatest Instagram story viewer if you don't want to join up for Instagram is Dumpor. You do not need to log into your Instagram account to view other people's profiles or Instagram stories. The content posted on IG stories is the property of the account owner, but you can explore other accounts, download images, and look at other users' comments and profiles while remaining anonymous. Both free and paid users of this service are welcome.
While using your computer, you can read about other people's experiences. Dumpor reviews claim that the programme is long-term safe to use and gives you anonymous access to any Instagram account. So that's all there is to know about this Instagram story viewer; feel free to ask any additional questions in the comments section below.
What is the Ghost of Tsushima Legends Mode
Ghost of Tsushima: Legends debuted in October 2020 as a free DLC. It added a multiplayer experience to the formerly single-player-only game. 
The content debuted as Update 1.1, and it offers a new game mode you can open from the main menu. In other words, it's a stand-alone mode, so you won't get to play with the Jin Sakai you crafted during the campaign.
The multiplayer slightly tweaks the gameplay, as it leans less into stealth, and more into action and fantasy. Nevertheless, it translates the game's successful formula into a fully-fledged co-op with no micro-transactions or hidden fees.
Also, we should clarify that Ghost of Tsushima is available for free for all PlayStation Plus subscribers. If you own a digital or physical copy of the PS4 title, or if you're a member of the service, you get access to Legends. 
How Does Ghost of Tsushima: Legends Work?
Ghost Tsushima: Legends is a co-op mode that takes you to a Japanese mythology fantasy. You can access it via the game's menu by going to the "Legends" section.
Once inside the Legends mode, you'll see it offers four additional gameplay modes. You can play these modes with a character you create, and you may choose one of the four available classes for Legends.
Then, you can level up your character in various ways, regardless of the multiplayer mode you play.
So, in essence, the Legends mode offers four classes, five gameplay modes, and simple character progression. To deliver it as a co-op experience, the game uses a regular matchmaking process, although you can also easily join your friends' lobbies or vice-versa.
Ghost of Tsushima Multiplayer Game Modes
Overall, Legends allows you to play an adventure or a survival adventure with your friends. It follows a different storyline than the campaign, you get to play with a different character, and it introduces new areas, enemies, bosses, loot, and skills.
You can enjoy these mechanics on one of the four available multiplayer game modes
Quickplay: You can join "Survival Quick Play" or "Story Quickplay." These allow you to join random and ongoing battles if matchmaking is enabled.
Story: These offer a series of levels you can play with an additional player. These missions lean heavily into Japanese folklore, and it delivers a fantasy setting where dark and demonic beings become your enemies. The story mode is available for two players, and it goes across 10 acts with three chapters each.
Survival: These support up to four players. The mode puts you on one of the seven available maps, and the goal is to defend areas against enemy waves, and there is going to be a boss every 5th wave. Defeating a boss will refresh areas you have lost on previous waves. Lastly, as you play, you'll earn currency you can spend to purchase skills.
Challenge: These raids are part of "The Tale of Iyo. It's a four-player co-op that puts the team in dungeon-like locations. The game mode goes across three chapters, and, because of its difficulty, it's the end-game section of Tsushima's multiplayer co-op.
Both Survival and Story missions have three difficulty modes. Each new tier raises the drop rate of high-level and rare items. Particularly, raising the difficulty level will raise the maximum number of waves you have to hold on Survival – 15 for Bronze, 20 for Silver, and 25 for Gold and Nightmare.
So, as you see, the three difficulties are Bronze, Silver, and Gold. You may play Story and Survival missions as many times as you want, on the difficulty you choose. The enemy spawns and the loot is random, so you find different things and have a different experience each time.
Lastly, once you reach level 90, you can play these two modes in the "Nightmare" difficulty. This is a challenge mode that delivers one Story mission and one Survival mission each week. Similarly, level 90 would allow you to play the challenge raids without dying in a couple of seconds.
Ghost of Tsushima Multiplayer Classes
Ghost of Tsushima's main character Jin Sakai can learn dozens of skills. He can master all aspects of samurai melee, ranged attacks, stealth, combos, and more.
In Legends, though, those skills are divided into four classes. Each one has a unique passive or active ability and "Ultimate" skill to match the class and skills they have.
In any case, to play the Legends mode, you have to pick one of the four available classes:
Samurai: Samurai is an offensive melee class focusing on Katanas and swordplay. Its Ultimate, "Samurai Ultimate," allows the warrior to slow down time to attack enemies. Its ability allows him to siphon health from enemies passively.
Hunter: Hunter is a long-range fighter focusing on bows and explosive arrows. Its Ultimate ability, "The Eye of Uchitsune" unleashes a rain of arrows at enemies. Then, Hunter's class ability allows him to stun targets in an area.
Ronin: Ronin is the team medic, but he also has affinities for mystical abilities and swordplay. The Ronin's Ultimate is "Breath of Izanami," which can revive a team member or the entire team. Then, Ronin's special ability allows him to summon a spirit dog companion to fight alongside the party.
Assassin: Assassin focuses on stealth and Katanas. Its Ultimate is "Shadow Strike," which teleports him across the battlefield to land surprise attacks. Lastly, its class ability lets him vanish in a cloud of poison that staggers enemies.
At first, you'll only be able to play with a single class. However, as you advance to the Legends mode, you'll unlock the other classes and become able to swap between them freely.
Ghost of Tsushima Multiplayer Character Progression
Your Legends characters can level up, buy skills on skill trees, find weapons with techniques, loot tons of gear, upgrade weapons and armor, and find resources to purchase upgrades.
Notably, though, the four classes have a unique skill tree plus their "Class Ability" and their "Ultimate." So, you can level these characters as you'd do on any other action-RPG, get skill points, and purchase further skills. 
Completing any activity within the Legends mode grants XP to your character. Activities mean completing levels on Story mode, completing a Survival map, completing a challenge, or finishing a quick play.
Then, leveling up grants you the possibility to unlock Techniques. Unlike Jin Sakai, though, you can pick a single Technique per row.
Likewise, Legend's characters don't have the four Sword Stances available. Each character has a Sword Stance, but they can find swords with built-in Stances or Stance combos.
The other character progression elements are:
Gear: You obtain gear as a reward for completing missions and activities. The stronger you get, the better the loot becomes. Also, gear comes in four rarities (Common, Rare, Epic, and Legendary). Each rarity comes with more stats and bonuses, but you can "Reforge" and "Reroll" Legendary items to get other bonuses, or boost these bonuses.
Cosmetic Items: Aside from regular gear, you can also find cosmetic items to customize your appearance. These include masks, class items, body items, sword kits, emotes, and sword VFXs. Some of these cosmetics are available in the Legends mode, but you need to unlock others in the single-player campaign.
Power Level/Ki: The "Ki" is the summation of your gear's rarity and levels. It's an indication that easily tells you how much you have progressed your character, or how difficult a mission can be. That said, the maximum power level is 110, and only Nightmare difficulty missions drop gear with 110 Ki.
Resources: You get resources as a reward for completing missions and activities. These resources are "Essence," "Honor," and "Shrines," and you need these to Reforge and Reroll gear. Reforging and Rerolling can raise your Power Level.
How to Level up Your Legends Character?
The Ghost of Tsushima Legends requires some grinding to reach Power Level 110. Luckily, you have three difficulty settings to climb your way up.
In essence, you'd want to play on Bronze until your Power Level hits 35. It can be tough at first, so you'd be better off playing on Survival, as it allows you to tackle the challenge with three additional players.
After level 35, you can run the story missions on Silver difficulty. It may take you a single run of the entire co-op story mode to reach level 80. Afterward, you'd want to keep playing any of the modes on Gold difficulty. The Tales of Iyo challenge are especially rewarding around this Power Level.
Once you reach level 105 on Gold, you'd have to rely on Nightmare challenges to reach the peak, 110. You may also keep playing the Raids for the loot they offer.
Spotify acquired Heardle, the Wordle-inspired music guessing game
If you tried to play Heardle this morning and got redirected to a Spotify website, that wasn't a glitch. Spotify announced today that it acquired the Wordle-inspired music guessing game, which the streamer will leverage to support music discovery.
Heardle is one of many beloved spinoffs that have cropped up in the vein of Wordle, the daily word game that became so popular that it was acquired by The New York Times. In the game, you're served the first second of a popular song. If you can guess which song it is within one second, then congrats, you win! If not, you have six tries to guess, and after each failed guess, the length of the clip doubles. By your final guess, you have a full 16 seconds to see if you're the music aficionado you think you are.
"For existing Heardle players, the look and feel of the game will stay the same, and it'll remain free to play for everyone," Spotify wrote in a press release. "And effective today, players can listen to the full song on Spotify at the end of the game."
https://jac.yahoosandbox.com/1.5.1/safeframe.html
Before its acquisition, Heardle invited players to make donations via ko-fi, a creator tipping platform, to support the game. Now, its ko-fi page is no longer active. Still, some fan-made Heardle spinoffs like Lorde Heardle (… a real missed opportunity to call it "Lordle") remain online.
The New York Times acquired Wordle for an undisclosed amount in the "low seven figures," but Spotify didn't disclose the cost of its Heardle purchase. The Wordle acquisition seems to have paid off for the newspaper, which noted in its quarterly earnings that the game brought "tens of millions" of new users to the site. After playing the day's Wordle puzzle, users are served a small ad for another New York Times word game called Spelling Bee. So, it's probably not a coincidence that The New York Times saw its best-ever quarter for net subscriber additions to Games after its January acquisition.
Though Heardle may not be as popular as Wordle, it's still a strategic get for Spotify. According to web analytics firm Similarweb, the game peaked at 69 million monthly desktop and mobile web visits in March. Last month, the Heardle website was visited 41 million times.
This acquisition makes sense for Spotify as it attempts to improve music discovery and keep listeners on their app. Like its popular Spotify Wrapped feature, which even included a game this year, Heardle has the potential to drum up organic social media shares for the app. Even Spotify's own Twitter account has joined in on the fun.
Over the last few years, Spotify has made a number of acquisitions mostly in the podcasting space, such as Anchor, Megaphone and Podz, but this marks Spotify's first acquisition of a game. Even Netflix is trying to leverage gaming to support its original content.