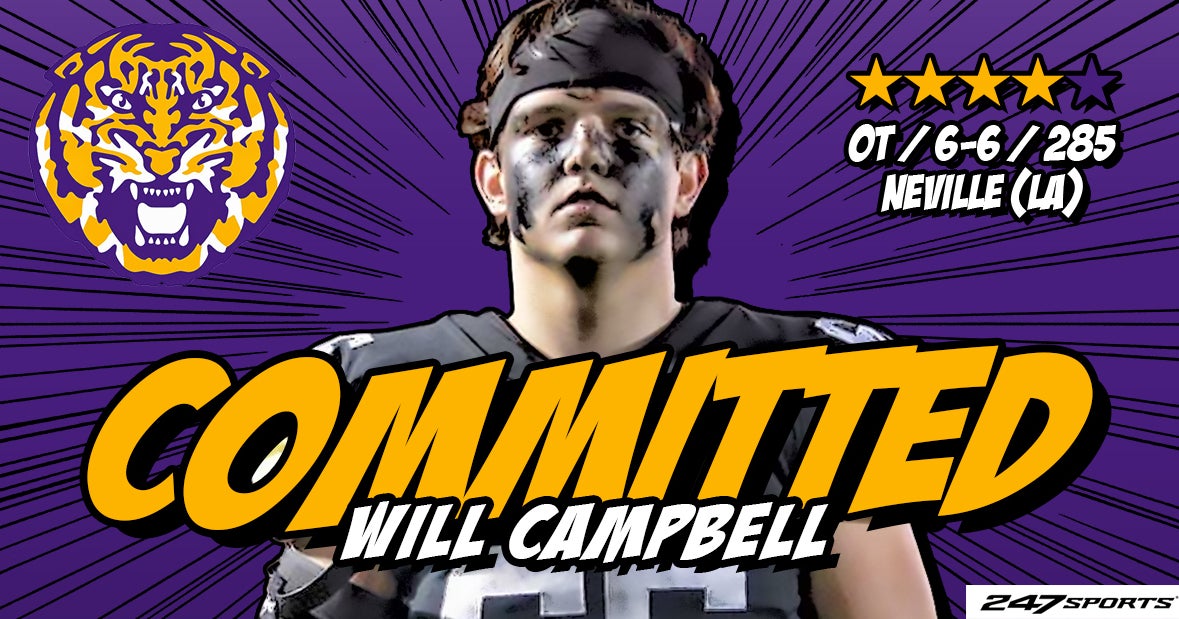 Louisiana doesn't turn out Top 100 offensive tackle prospects very often, and LSU head coach Ed Orgeron and the Tigers made certain not to let a chance to reel one in slip away.
On Saturday evening, Neville High (Monroe) offensive tackle Will Campbell shut down his recruitment process and committed to LSU over a double-digit offer list that also included teams like Alabama, Oklahoma, Notre Dame and more.
Campbell is LSU's first offensive tackle commitment for the 2022 recruiting class, and he's currently ranked by the 247Sports Composite as the No. 56 overall prospect in the country, the No. 6 offensive tackle and No. 2 recruit in Louisiana behind only fellow LSU commitment and St. Thomas More quarterback Walker Howard. On 247Sports, Campbell is ranked as the No. 1 prospect in Louisiana, No. 5 offensive tackle in the country and No. 45 overall prospect in the class.
And with a year-plus to go until National Signing Day, Campbell is the highest-ranked offensive lineman to come out of Louisiana since West Monroe's Cam Robinson in the 2014 class. Prior to Robinson, La'el Collins was the highest-ranked offensive tackle prospect out of Louisiana as part of a deep 2011 class. Both Robinson and Collins are now starters in the NFL after successful college careers, and both finished as five-stars on the 247Sports Composite rankings.
For Campbell, he joins an LSU class that's already deep with Louisiana talent. His close friend, Howard, is on board at quarterback. LSU also has two receivers committed in Green Oaks wideout Decoldest Crawford and Edna Karr receiver Aaron Anderson. LSU also has a commitment in from Acadiana cornerback Laterrance Welch. The Tigers have 19 verbal offers out to juniors in Louisiana's 2022 class, which is the highest mark of Orgeron's tenure when it comes to making moves on Louisiana's best at this stage of the cycle.
What does Campbell bring to the field at 6-foot-6, 285 pounds as a multi-year starter for one of the top high school football programs in the state?
"Tall with above average length. Wears his mass well and owns terrific frame potential," said 247Sports analyst Gabe Brooks. "Active feet set up contact and foster drive-blocking effectiveness. Flashes some nasty as a block-finisher and will take targets to the ground if possible. Displays encouraging movement ability in space that reflects in second-level efficiency. Reaches those second-level targets with relative ease. Combines functional mobility and strength as consistently effective reach-blocker. Arriving impact improved as a junior and also showed in flashes at point of attack. Owns a high ceiling as a pass-blocker thanks to frame and above-average foot quickness. Generally does not allow naturally high center of gravity negatively affect pad level and leverage. Consistency as a puncher can still improve. Also can trust his frame/reach more in initial extension, especially in pass pro. Looks to be among the top 2022 offensive tackle prospects. Projects to high-major level with long-term potential to reach the early rounds of the NFL Draft."
Stay tuned to Geaux247 for more on this breaking news. 
Not a VIP subscriber to Geaux247? Sign up now to get access to everything Shea Dixon, Sonny Shipp and Billy Embody have to offer on all things LSU and access to the No. 1 site covering the Tigers.
Want the latest news on LSU delivered right to your email? Subscribe to the Geaux247 newsletter here. It is free and a great way to get daily updates on LSU football, basketball, baseball, recruiting, and more delivered straight to your inbox. Like us on Facebook. Follow us on Twitter.
Did you know Geaux247 has a podcast? That is right folks. The Geaux247 Podcast is available bringing you the best insight into the latest LSU news from Billy Embody, Shea Dixon, and Sonny Shipp. Catch all the latest episodes right here or subscribe on iTunes or Spotify today! Please leave us a rating and a comment.